Security
Edit Profile
Jobs
Communication
Entrepreneurship
Death of Wall Street pioneer Muriel Siebert
Muriel Siebert, the first woman to own a seat on the New York Stock Exchange, earning her the title of "First Lady of Wall Street," passed away on Saturday in New York City. She was 80.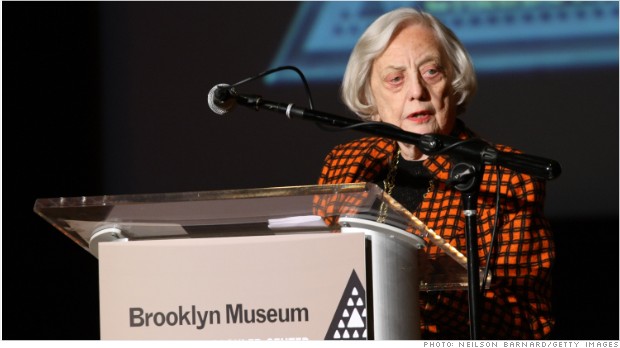 Called "Mickie" by her friends, Siebert arrived in New York in 1954 with no college degree and only $500 in her pocket. She would go on to break gender barriers at the exchange and earn a reputation as a hard-charging dynamo, eventually founding her own firm and dabbling in politics.
After making the journey from Cleveland to New York as a young woman, Siebert was turned down by Merrill Lynch because she never graduated from college. At her next interview, she fibbed that she had a degree. That got her hired at brokerage firm Bache & Co. as a $65-a-week trainee in the research department. She later became partner at two other securities firms, Finkle & Co. and Brimberg & Co.
Siebert was continually frustrated that she was never treated as an equal. "I wasn't getting paid the commissions men were," she said. "I was getting half of what they got for the exact same orders." She asked a client where she could get a job that would pay her equally. His advice? "Don't be ridiculous! Buy a seat and work for yourself."
And that's what she did. She bought her seat on the NYSE in 1967 for nearly half a million dollars, breaking up an all-male world that had previously only allowed women on the trading floor as clerks.
Siebert's firm, Muriel Siebert & Co., would later emerge as a pioneer in the discount brokerage business. Her company today is a subsidiary of Siebert FInancial Corp.Siebert "knew how to play with the boys -- and she played tough and built a good business," said Ted Weisberg, founder of competing firm Seaport Securities.
"She was a groundbreaker, and then was welcomed into the club," Weisberg said. "She was a real master of her craft." Siebert later became the first woman to serve as superintendent of banking for New York State in 1977. During her tenure, she launched measures designed to prevent New York banks from failing. She forced some banks to merge, and other bankers to cut their salaries.According to a biography on her company's website, she would joke that "Superintendent of Banking" stood for "S.O.B."
She resigned from her government post in 1982 to seek a U.S. Senate seat, but failed to capture the Republican nomination in New York.
Siebert also pursued philanthropic endeavors, and started a program in 1999 to teach personal financial management skills to students. She was also a member of the Council on Foreign Relations, the International Women's Forum, and the New York Women's Forum.
Born in Ohio in 1932, Siebert never married or had children. She is survived by her sister, Elaine.
Entrepreneurship
' section
Comments
Be the first to add your comments
---
Comment on this article
Login
to submit a comment
What we offer
GajGal is an expanding community of mothers helping mothers. Our motto "Get a Job | Get a Life" is based on the belief that for mothers wanting to get back into the workforce, finding a job with "the right level" of flexibility, empowers working mothers to live life on their own terms and better control their own destiny.
GajGal aims to address this "new reality" through four core components:
1. Job Search and Matching tools to streamline finding the perfect fit for flexible work arrangements.
2. Access to Benefits that in the traditional work environment have been provided by full time employers. GajGal helps to provide a critical mass of members to ensure access to a range of benefits options that we are continually working to expand and improve on.
3. Working Mother Community to provide access to news, blogs and articles of interest and importance to working mothers and a social networking community that working mothers can interact with and draw on for support.
4. The Entrepreneur Zone is for mothers aiming to start their own business and expand on the concepts of working mothers helping working mothers succeed.
Success stories
Shayne Duke
"Using your Benefits link made it easy to select from a wide range of health insurance offerings and narrow down the various plans available that best fit my needs. Being able to make a side by side comparison of the details further helped me make an informed decision on a plan with great rates. The application is swift and uncomplicated"
Amy Rogers
" WOW this is a fantastic idea aimed at a true need. I have had a hard time preparing to go back to work after staying home with my two kids for the past 4 years. I am so excited to start adding my requirements and get started on the search. The Latest News and Benefits are an excellent idea. I would come here to read this even if I wasn't looking for a job right now"