Security
Edit Profile
Jobs
Communication
Latest News & Current Events
Don't worry Miss Utah - We have the Wage Gap Data
By now you have probably see the viral video of Miss Utah's brain freeze in response to the question "A recent report shows that in 40 percent of American families with children, women are the primary earners, yet they continue to earn less than men. What does this say about society?"during the Miss America Pagent last week. Despite Marissa Powell's experience in front of a live audience (on her official bio, the aspiring model-singer-actress references belting out the national anthem for 10,000 people and regularly performing with her band, Geniveve) she lost her train of thought and began to wander into fluff territory. Marissa started off fine as she began to answer: "I think you can relay this back to education and how we are continuing to try to strive to …"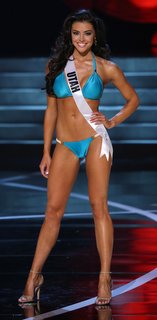 Unfortunately, she lost her train of though and continued to speak: "… figure out how to create jobs right now. That is the biggest problem, and I think especially for men are seen as the leaders of this so we need to try to figure out how to create education better, so that we can solve this problem. Thank you."
Miss Utah, who finished third runner-up and walk away with the Miss Photogenic USA Award, a prize given to the delegate who "exemplifies beauty through the lens of a camera," appeared on the Today show Tuesday to put her slip of the tongue into perspective and clarify what she would have liked to have said
"This is not OK,'' she said. "It needs to be equal pay for equal work. It's hard enough already to earn a living, and it shouldn't be harder just because you're a woman." Powell, said anxiety got the better of her on Sunday night.
The Institute for Women's Policy Research reported in April that women's median earnings are lower than men's in nearly all occupations, whether they work in jobs predominantly done by women, those predominantly done by men or occupations with a more even mix of men and women. This chart provides a comparison of women's median earnings in 20 occupations in which women are dominant.
Table 1: The Wage Gap in the 20 Most Common Occupations for Women
(Full-Time Workers Only), 2011
Women's median weekly earnings

Women's earnings as percent of men's

Men's median weekly earnings

Share of female workers in occupation

Number of male

workers

Number of

female workers

All full-time workers, all occupations

$684

82.2%

$832

44.3%

55,971,000

44,486,000

20 most common occupations for women

Share of male workers in occupation as percent of all male workers

Share of female workers in occupation as percent of all female workers

Secretaries and administrative assistants

$651

86.0%

$757

96.1%

0.2%

4.6%

Elementary and middle school teachers

$933

91.3%

$1,022

81.0%

0.8%

4.4%

Registered nurses

$1,034

95.7%

$1,081

90.3%

0.4%

4.4%

Nursing, psychiatric, and home health aides

$446

88.8%

$502

86.9%

0.3%

2.6%

Customer service representatives

$569

90.6%

$628

64.4%

1.0%

2.2%

Cashiers

$373

90.8%

$411

71.6%

0.7%

2.2%

First-line supervisors of retail sales workers

$599

78.9%

$759

43.1%

2.3%

2.2%

First-line supervisors/managers of office and administrative workers

$741

89.0%

$833

67.2%

0.8%

1.9%

Accountants and auditors

$956

76.5%

$1,250

61.6%

1.0%

1.9%

Receptionists and information clerks

$520

99.8%

$521

91.0%

0.1%

1.8%

Bookkeeping, accounting, and auditing clerks

$656

100.3%

$654

87.0%

0.2%

1.7%

Managers, all other

$1,047

74.5%

$1,406

36.0%

2.3%

1.7%

Retail salespersons

$466

75.2%

$620

41.0%

1.9%

1.7%

Office clerks, general

$594

83.4%

$712

84.8%

0.2%

1.5%

Maids and housekeeping cleaners

$392

82.9%

$473

85.0%

0.2%

1.4%

Secondary school teachers

$989

94.3%

$1,049

57.2%

0.8%

1.3%

Financial managers

$991

65.9%

$1,504

54.3%

0.9%

1.3%

Teacher assistants

$471

-

-

-

0.1%

1.3%

Waiters and waitresses

$389

83.5%

$466

64.1%

0.6%

1.3%

Social workers

$798

88.5%

$902

81.0%

0.2%

1.3%

Percent of all women and men:

14.7%

42.4%
Source: Institute for Women's Policy Research.
It is important for both women and men in our society to understand the wage disparity that continues to exist in the workplace and the relevance and impact that this has on every family and the economy as a whole.
Latest News & Current Events
' section
Comments
Be the first to add your comments
---
Comment on this article
Login
to submit a comment
What we offer
GajGal is an expanding community of mothers helping mothers. Our motto "Get a Job | Get a Life" is based on the belief that for mothers wanting to get back into the workforce, finding a job with "the right level" of flexibility, empowers working mothers to live life on their own terms and better control their own destiny.
GajGal aims to address this "new reality" through four core components:
1. Job Search and Matching tools to streamline finding the perfect fit for flexible work arrangements.
2. Access to Benefits that in the traditional work environment have been provided by full time employers. GajGal helps to provide a critical mass of members to ensure access to a range of benefits options that we are continually working to expand and improve on.
3. Working Mother Community to provide access to news, blogs and articles of interest and importance to working mothers and a social networking community that working mothers can interact with and draw on for support.
4. The Entrepreneur Zone is for mothers aiming to start their own business and expand on the concepts of working mothers helping working mothers succeed.
Success stories
Shayne Duke
"Using your Benefits link made it easy to select from a wide range of health insurance offerings and narrow down the various plans available that best fit my needs. Being able to make a side by side comparison of the details further helped me make an informed decision on a plan with great rates. The application is swift and uncomplicated"
Amy Rogers
" WOW this is a fantastic idea aimed at a true need. I have had a hard time preparing to go back to work after staying home with my two kids for the past 4 years. I am so excited to start adding my requirements and get started on the search. The Latest News and Benefits are an excellent idea. I would come here to read this even if I wasn't looking for a job right now"