Security
Edit Profile
Jobs
Communication
Latest News & Current Events
'Woman in red' becomes symbol of Turkey protests
What began in late May as part of efforts to stop the cutting down of trees at the popular Gezi Park, to build a mall in the last green space in the city center of Istanbul Turkey, has rapidly morphed into a large scale protest about the erosion of rights and heavy handed government brutality.
Demonstrations against the violence and indiscriminate use of teargas meted out by police have taken on a life of their own. Demonstrators are calling for Prime Minister Recep Tayyip Erdogan's resignation and communicating via social media while heavily censored local media play down the scale of protest.
Last week an unlikely "Woman in Red" became the symbol of Turkeys protest as images of heavy handed police action showing a smartly dressed woman being sprayed with teargas by a riot policeman during protests in Istanbul's Taksim Square spread on social media around the world.
The woman identified as Ceyda Sungur told Turkey's TV 24 that she is uncomfortable about her new fame. She doesn't want to be an icon of a movement saying "There are a lot of people who were at the park and they were also tear-gassed," adding "There is not (a) difference between them and I."
The images of a woman in a red dress walking in public have touched a chord with other women in the region too, with many women questioning why they should not be free to wear such attire in their own countries. Amidst allegations of indiscriminate police use of toxic forms of teargas and elderly passers buy being targeted with water cannons, Swiss TV station RTS showed images of women inspired to wear red clothing by the "women in Red" being targeted by police in subsequent gatherings and rounded up while walking along the street.
Women are now finding themselves on the frontline of Turkey's mass anti-government protests. Protesters say Turkish Prime Minister Recep Tayyip Erdogan is forcing his conservative, Islamic values on the mainly Muslim but staunchly secular nation. One of the protestor's actress Sevi Algan, 37 says "We are the women Erdogan would like to see staying at home." Many of the women happily admit they are accidental activists who never would have guessed two weeks ago that they would be pitching a tent in the epicenter of nationwide civil unrest.
But now these young Turks, many of them students, lawyers, teachers and office workers, easily account for half of the thousands of demonstrators in Gezi Park and nearby Taksim Square - and they have taken to their new routine with gusto. They spend hours under the park's sycamore trees debating their cause, take part in all-night singing and dancing sessions and, when necessary, stand shoulder to shoulder with football fans on guard against police action outside the park's police-free zone.
The 'Woman in red' sprayed with teargas becomes a symbol of Turkey protests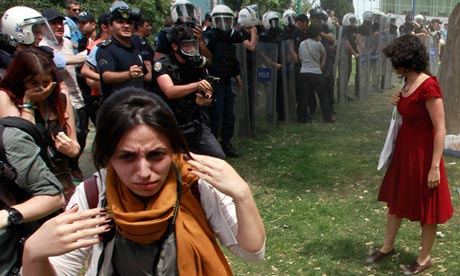 Istanbul's police chief had said his forces would only use teargas as a last resort. But the images seem to show the officer targeting an unarmed woman.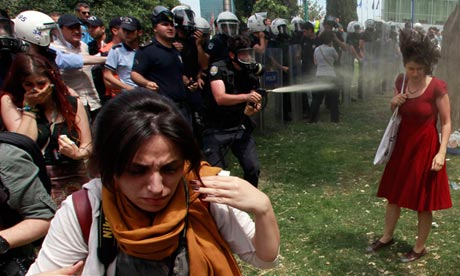 The woman's hair is blown upwards as she turns away from the officer.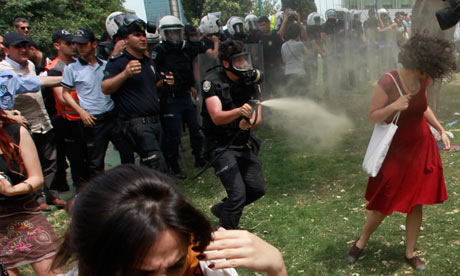 The officer closes in on the woman.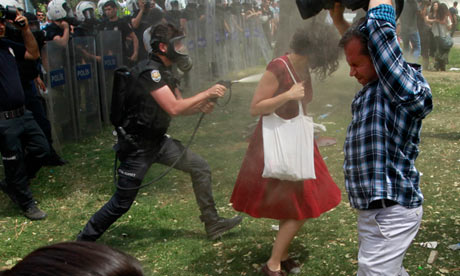 The officer continues to use teargas as the woman turns away.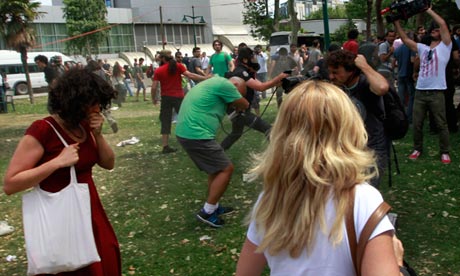 The woman covers her mouth as the officer goes on to spray the crowds of demonstrators behind her.
The images have been widely shared on social media and have spawned cartoons and graffiti across the country and beyond
Latest News & Current Events
' section
Comments
Be the first to add your comments
---
Comment on this article
Login
to submit a comment
What we offer
GajGal is an expanding community of mothers helping mothers. Our motto "Get a Job | Get a Life" is based on the belief that for mothers wanting to get back into the workforce, finding a job with "the right level" of flexibility, empowers working mothers to live life on their own terms and better control their own destiny.
GajGal aims to address this "new reality" through four core components:
1. Job Search and Matching tools to streamline finding the perfect fit for flexible work arrangements.
2. Access to Benefits that in the traditional work environment have been provided by full time employers. GajGal helps to provide a critical mass of members to ensure access to a range of benefits options that we are continually working to expand and improve on.
3. Working Mother Community to provide access to news, blogs and articles of interest and importance to working mothers and a social networking community that working mothers can interact with and draw on for support.
4. The Entrepreneur Zone is for mothers aiming to start their own business and expand on the concepts of working mothers helping working mothers succeed.
Success stories
Shayne Duke
"Using your Benefits link made it easy to select from a wide range of health insurance offerings and narrow down the various plans available that best fit my needs. Being able to make a side by side comparison of the details further helped me make an informed decision on a plan with great rates. The application is swift and uncomplicated"
Amy Rogers
" WOW this is a fantastic idea aimed at a true need. I have had a hard time preparing to go back to work after staying home with my two kids for the past 4 years. I am so excited to start adding my requirements and get started on the search. The Latest News and Benefits are an excellent idea. I would come here to read this even if I wasn't looking for a job right now"