Security
Edit Profile
Jobs
Communication
What's new - Fashion & Trends
American Apparel fires "sleazy" founder Dov Charney
Dov Charney has been dubbed "the man who put the sleaze factor into American Apparel" after repeatedly being cited in sexual harassment lawsuits. Now the clothing and accessories retailer American Apparel Inc has ousted its controversial founder as chairman and moved to fire him as chief executive and president amid an ongoing investigation into alleged misconduct.
The company, known for its racy advertising and bright "Made-In-America" clothes, said its chief financial officer, John Luttrell, would act as interim chief executive during the search for a permanent CEO. The retailer also appointed Allan Mayer and David Danziger as co-chairmen.
"We take no joy in this but the board felt it was the right thing to do," Mayer said in a statement.
Charney, 45, founded American Apparel's predecessor companies in 1989 and has been in charge since 2007 when the company went public.
On top of several official sexual harassment lawsuits (which have been dismissed or settled), x-rated rumours have swirled around the 45-year-old. He is famous for buying employees vibrators as presents; for asking them to masturbate in front of him; for walking the factory floor in his underpants, or wearing a sock where the underpants might have been. In 2004, a female journalist claimed that he had oral sex with a female employee while being interviewed for Jane magazine.
Far from being embarrassed, Charney has seemed proud of his attitude to sex, and a sense of extreme libertarianism has been promoted by the brand. In 2008, in official court documents, lawyers defending Charney said: "American Apparel is a sexually charged workplace where employees of both genders deal with sexual conduct, speech and images as part of their jobs." In that 2004 interview, Charney said: "I am a bit of a dirty guy, but people like that right now." Could it be, in 2014, that people don't like it any more?
Charney began his career importing T-shirts in his native Montreal and launched American Apparel in Los Angeles in 1997. By 2005, the company was declared one of the fastest-growing in the US. Charney was known to be an obsessive, hands-on leader of the company, dedicated to producing the clothing ethically, and though many former employees hated him, others would evangelically sing his praises.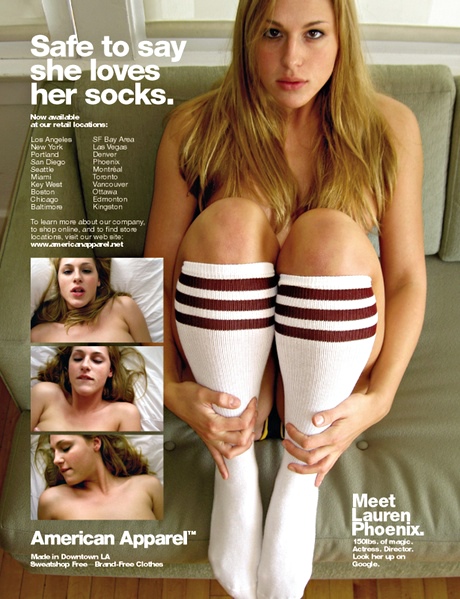 An American Apparel advert from 2006.
American Apparel has always been about a lifestyle, and aspects of that lifestyle currently feel far from fashionable. All that is left, now, are the tops and skirts and lurex-covered leggings, and a company left distancing itself from its founder as it tries to retain some of its sheen.
What's new - Fashion & Trends
' section
Comments
Be the first to add your comments
---
Comment on this article
Login
to submit a comment
What we offer
GajGal is an expanding community of mothers helping mothers. Our motto "Get a Job | Get a Life" is based on the belief that for mothers wanting to get back into the workforce, finding a job with "the right level" of flexibility, empowers working mothers to live life on their own terms and better control their own destiny.
GajGal aims to address this "new reality" through four core components:
1. Job Search and Matching tools to streamline finding the perfect fit for flexible work arrangements.
2. Access to Benefits that in the traditional work environment have been provided by full time employers. GajGal helps to provide a critical mass of members to ensure access to a range of benefits options that we are continually working to expand and improve on.
3. Working Mother Community to provide access to news, blogs and articles of interest and importance to working mothers and a social networking community that working mothers can interact with and draw on for support.
4. The Entrepreneur Zone is for mothers aiming to start their own business and expand on the concepts of working mothers helping working mothers succeed.
Success stories
Shayne Duke
"Using your Benefits link made it easy to select from a wide range of health insurance offerings and narrow down the various plans available that best fit my needs. Being able to make a side by side comparison of the details further helped me make an informed decision on a plan with great rates. The application is swift and uncomplicated"
Amy Rogers
" WOW this is a fantastic idea aimed at a true need. I have had a hard time preparing to go back to work after staying home with my two kids for the past 4 years. I am so excited to start adding my requirements and get started on the search. The Latest News and Benefits are an excellent idea. I would come here to read this even if I wasn't looking for a job right now"