Security
Edit Profile
Jobs
Communication
Latest News & Current Events
50M Global refugees - Highest since WWII
According to the latest UN high commissioner for refugees (UNHCR) report the global refugee figure passes 50 Million for the first time since the second world war More than half of those displaced are children, and aid organizations are reaching a breaking point.
The annual UNHCR global trends report said - Half the world's refugees are children, many travelling alone or in groups in a desperate quest for sanctuary, and often falling into the clutches of people traffickers.
More than 25,000 unaccompanied children lodged asylum applications in 77 countries last year, a fraction of the number of displaced minors across the globe.
We are witnessing a quantum leap in forced displacement in the world," António Guterres, head of the UN's refugee agency, said as figures for 2013 showed a total of 51.2 million refugees, asylum seekers and internally displaced people. If displaced people had their own country it would be the 24th most populous in the world.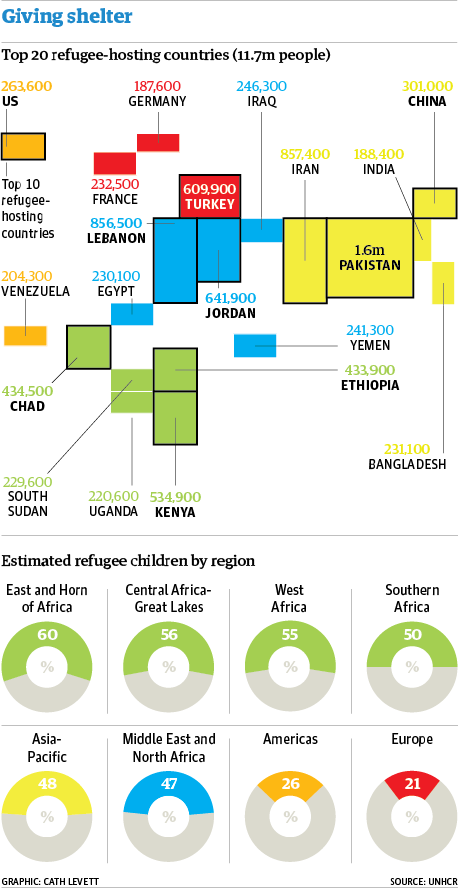 Source: UNHCR
The increase of 6 million over the 2012 figures has mainly been driven by the war in Syria. By the end of last year, 2.5 million Syrians had fled across the country's borders and 6.5 million were internally displaced – more than 40% of the population.
Conflicts in the Central African Republic and South Sudan also contributed to rising numbers.
The UNHCR reported. An average of 32,200 individuals were forced to flee their homes each day.It defined three groups:
• Refugees – 16.7 million people worldwide. Apart from 5 million Palestinians, the biggest refugee populations by source country are Afghans, Syrians and Somalis, which together account for half the total. The main host countries were Pakistan, Iran, Lebanon, Jordan and Turkey. Eighty-six per cent of the world's refugees are hosted by developing countries – up from 70% a decade ago.
• Asylum seekers – close to 1.2 million people submitted asylum claims, mostly in developed countries. In terms of country of origin, the highest number was from Syria (64,300), followed by the Democratic Republic of Congo (60,400) and Burma (57,400). Germany was the largest recipient.
• Internally displaced people – a record 33.3 million were forced to flee their homes but remained within their country's borders.
Many of those crossing borders fell into the hands of increasingly sophisticated people-trafficking gangs. "We see these networks of trafficking and smuggling becoming more and more international, multinational, and linked to other forms of international criminality", such as guns and drugs.
Besides war other factors that forced people to leave their homes included climate change, population growth, urbanisation, food insecurity and water scarcity – many of which interacted with and enhanced each other.
Humanitarian organisations could only mitigate the impact of conflict on ordinary people. Guterres says "There is no humanitarian solution … The solution is political and the solution is to solve the conflicts that generate these dramatic levels of displacement."
Latest News & Current Events
' section
Comments
Be the first to add your comments
---
Comment on this article
Login
to submit a comment
What we offer
GajGal is an expanding community of mothers helping mothers. Our motto "Get a Job | Get a Life" is based on the belief that for mothers wanting to get back into the workforce, finding a job with "the right level" of flexibility, empowers working mothers to live life on their own terms and better control their own destiny.
GajGal aims to address this "new reality" through four core components:
1. Job Search and Matching tools to streamline finding the perfect fit for flexible work arrangements.
2. Access to Benefits that in the traditional work environment have been provided by full time employers. GajGal helps to provide a critical mass of members to ensure access to a range of benefits options that we are continually working to expand and improve on.
3. Working Mother Community to provide access to news, blogs and articles of interest and importance to working mothers and a social networking community that working mothers can interact with and draw on for support.
4. The Entrepreneur Zone is for mothers aiming to start their own business and expand on the concepts of working mothers helping working mothers succeed.
Success stories
Shayne Duke
"Using your Benefits link made it easy to select from a wide range of health insurance offerings and narrow down the various plans available that best fit my needs. Being able to make a side by side comparison of the details further helped me make an informed decision on a plan with great rates. The application is swift and uncomplicated"
Amy Rogers
" WOW this is a fantastic idea aimed at a true need. I have had a hard time preparing to go back to work after staying home with my two kids for the past 4 years. I am so excited to start adding my requirements and get started on the search. The Latest News and Benefits are an excellent idea. I would come here to read this even if I wasn't looking for a job right now"