Security
Edit Profile
Jobs
Communication
Latest News & Current Events
Reaction to Hillary Clinton becoming a grandmother shows US sexism is still rife
While the Clinton's are known to stir emotions and passionate opinions in the political arena, the news that Hillary Clinton is to become a grandmother has prompted questions about her ability to run for presidency that show that sexism in the US remains rampant and "political correctness" clearly does not apply when it comes to politics.
As you may have heard, Chelsea Clinton is expecting a baby with her husband, Marc Mezvinsky. Meaning that Hillary Clinton, dubbed to be the front runner for the 2016 presidential race, is to become a grandmother.
Some of the extreme reactions were bound to happen, even though they leave one scratching your head at the hypocrisy - An editorial in the Christian Post managed to turn Clinton's birth announcement into a debate about abortion: "It's no secret that the Clintons support abortion," the article claimed "But when it's their own grandchild, it appears the Clintons see things differently. No talk of a non-person fetus, only of a child." - Imagine, wanting to give women access to abortion, but not actually wanting to abort every single pregnancy?
Newsmax's Steve Malzberg lamented "What great timing! God answered Hillary Clinton's prayers and she's going to have the prop of being a new grandma while she runs for president."Yes, the prop of one's 34-year-old married daughter having a baby! Whoever heard of such a crazy scenario? Those scheming Clintons really will do anything to get ahead.
But it is the reaction of mainstream press which is so disconcerting. By far the biggest debate is this: can Hillary Clinton run for president AND be a grandmother?
Oh, women – always wanting to have it all, aren't they? Well-known US TV journalists have expressed disbelief that the two roles could possibly be combined: "President or grandmother?" asked Charlie Rose. On NBC, David Gregory fretted over whether Clinton's impending grandmotherhood will "factor into" her decision to run. "I don't know, David. Did the birth of your three children make you worse at your job?" snapped Erin Gloria Ryan at Jezebel.com. Sadly, Gregory has yet to respond.
"Perhaps it's sexist even to ask the question," began an editorial in the Christian Science Monitor, promisingly. "If we had to guess, we'd say that Hillary Clinton will be a tad less interested in running for president now that she's about to be a grandmother." Yes, you know what those old ladies are like: one hint of a grandchild and they're too busy knitting booties to bother worrying about world affairs.
New York Times columnist Andrew Ross Sorkin, said on MSNBC: "Can we talk about the human drama that is Grandma Clinton? I'm not suggesting that anyone's having a baby for election purposes, but …"
You've gotta love that "but"!
"Hillary can't possibly be a grandmother and run for office!" – is really just code for "Holy hell, we can't possibly have a woman as president, and an OLD one to boot!"
Many presidents have been grandfathers in office, although it's actually quite hard to figure out how many because, no one kept track. In the last election, Mitt Romney, who, is the proud grandfather of 23 grandchildren, two of whom were born while he was on the campaign trail, and not once was this raised as a potential disadvantage.
Jeb Bush, who may well be Clinton's opponent in 2016, is also a grandfather, but that has yet to be raised as an issue against him.
Perhaps can console herself with the fact that if the most idiots can knock her for is being a grandmother, she probably can forget the knitting because she has that election sewn up.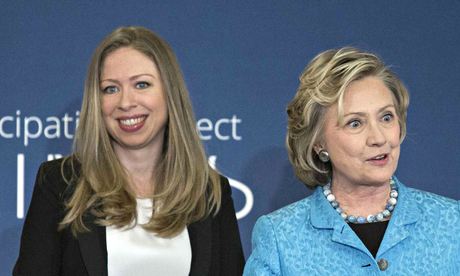 Latest News & Current Events
' section
Comments
Be the first to add your comments
---
Comment on this article
Login
to submit a comment
What we offer
GajGal is an expanding community of mothers helping mothers. Our motto "Get a Job | Get a Life" is based on the belief that for mothers wanting to get back into the workforce, finding a job with "the right level" of flexibility, empowers working mothers to live life on their own terms and better control their own destiny.
GajGal aims to address this "new reality" through four core components:
1. Job Search and Matching tools to streamline finding the perfect fit for flexible work arrangements.
2. Access to Benefits that in the traditional work environment have been provided by full time employers. GajGal helps to provide a critical mass of members to ensure access to a range of benefits options that we are continually working to expand and improve on.
3. Working Mother Community to provide access to news, blogs and articles of interest and importance to working mothers and a social networking community that working mothers can interact with and draw on for support.
4. The Entrepreneur Zone is for mothers aiming to start their own business and expand on the concepts of working mothers helping working mothers succeed.
Success stories
Shayne Duke
"Using your Benefits link made it easy to select from a wide range of health insurance offerings and narrow down the various plans available that best fit my needs. Being able to make a side by side comparison of the details further helped me make an informed decision on a plan with great rates. The application is swift and uncomplicated"
Amy Rogers
" WOW this is a fantastic idea aimed at a true need. I have had a hard time preparing to go back to work after staying home with my two kids for the past 4 years. I am so excited to start adding my requirements and get started on the search. The Latest News and Benefits are an excellent idea. I would come here to read this even if I wasn't looking for a job right now"