Security
Edit Profile
Jobs
Communication
What's new - Fashion & Trends
St Andrews Golf Club to drop ban on female members
After 260 years, and in the face of growing pressure to abandon its men-only policy, the Royal & Ancient golf club in St Andrews said its committees were now "strongly in favor" of a rule change to drop its ban on female members and had written to its 2,400 members asking them to support it.
In one small step for equality but one giant leap for the clubhouse overlooking has recommended dropping
The R&A, with its famous Old Course, is considered the cradle of golf and in addition to organizing the British Open is also the governing body for golf outside the US and Mexico. The club has come under increasing pressure to change its rules in recent years. In August 2012, the Augusta National golf club – the setting for the US Masters – abandoned its own longstanding ban on female members and invited the former US secretary of state Condoleezza Rice and South Carolina financier Darla Moore to join.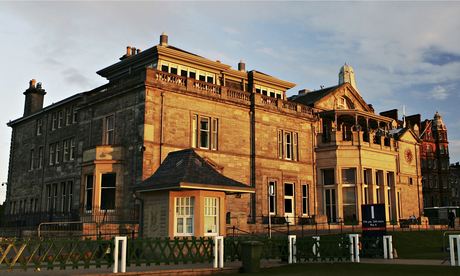 The R&A vote will take place on 18 September and requires a two-thirds majority. But even if its members do agree to admit women, three more courses on the nine-strong British Open rotation will still remain off limits to female members. These are Royal St George's, Troon and Muirfield, where the British Open was held last year. Britain's culture secretary, Maria Miller, former sports minister Hugh Robertson and Scottish first minister, Alex Salmond, all turned down invitations to attend Muirfield last year in protest.
The sports minister Helen Grant, who has vowed to get more women involved in sport to address a longstanding gender gap in participation, welcomed the move and called on Troon and Muirfield to follow suit. "This is welcome news from the Royal & Ancient golf club of St Andrews and I urge its members to follow their committees' recommendations and vote yes for women members," said Grant.
What's new - Fashion & Trends
' section
Comments
Be the first to add your comments
---
Comment on this article
Login
to submit a comment
What we offer
GajGal is an expanding community of mothers helping mothers. Our motto "Get a Job | Get a Life" is based on the belief that for mothers wanting to get back into the workforce, finding a job with "the right level" of flexibility, empowers working mothers to live life on their own terms and better control their own destiny.
GajGal aims to address this "new reality" through four core components:
1. Job Search and Matching tools to streamline finding the perfect fit for flexible work arrangements.
2. Access to Benefits that in the traditional work environment have been provided by full time employers. GajGal helps to provide a critical mass of members to ensure access to a range of benefits options that we are continually working to expand and improve on.
3. Working Mother Community to provide access to news, blogs and articles of interest and importance to working mothers and a social networking community that working mothers can interact with and draw on for support.
4. The Entrepreneur Zone is for mothers aiming to start their own business and expand on the concepts of working mothers helping working mothers succeed.
Success stories
Shayne Duke
"Using your Benefits link made it easy to select from a wide range of health insurance offerings and narrow down the various plans available that best fit my needs. Being able to make a side by side comparison of the details further helped me make an informed decision on a plan with great rates. The application is swift and uncomplicated"
Amy Rogers
" WOW this is a fantastic idea aimed at a true need. I have had a hard time preparing to go back to work after staying home with my two kids for the past 4 years. I am so excited to start adding my requirements and get started on the search. The Latest News and Benefits are an excellent idea. I would come here to read this even if I wasn't looking for a job right now"