Security
Edit Profile
Jobs
Communication
Latest News & Current Events
Alaska's rape epidemic
Alaska has the highest rate of reported rape in the US — three times the national average. As part of CNN's "Change the List" project, readers voted for John D. Sutter to go there to figure out why.
The extent of Alaska's problem with violence against women is both horrifying and clear: Alaska's per capita rate of reported rape is the highest in the country, according to 2012 FBI crime data. An estimated 80 rapes are reported in Alaska for every 100,000 people. That's nearly three times the national average of 27; and almost seven times the rate in New Jersey, the state where reported rape is least common. Those comparisons are imperfect, of course. But localized surveys in Alaska paint an even bleaker picture. A majority of women – 59% -- have experienced sexual or intimate partner violence, which includes physical violence and threats; and 37%, nearly four in 10, have been raped or sexually assaulted, according to a survey of 871 adult women in Alaska, published in 2010.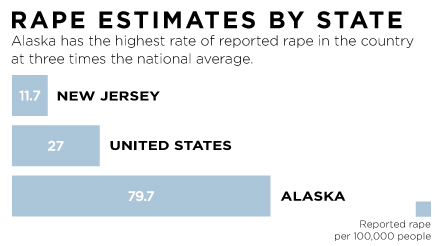 Source: FBI Uniform Crime Report, 2012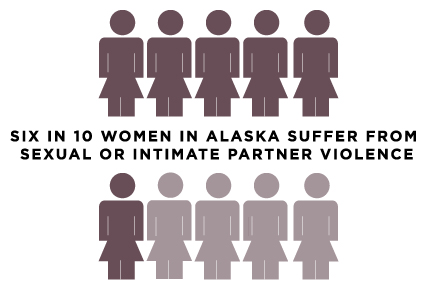 Source: Alaska Victimization Survey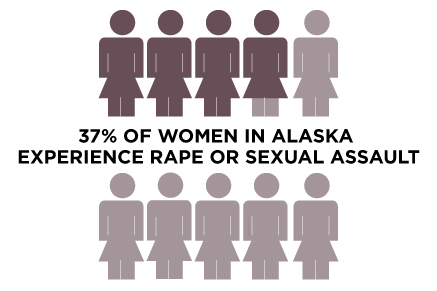 Source: Alaska Victimization Survey
There was a time when politicians in Alaska argued rape survivors were simply reporting rape more often in this state than elsewhere. Those arguments, however, have been largely abandoned as the scope of the violence has become clearer. If anything, the taboos surrounding rape in the state would suggest that the crime is underreported in Alaska, relative to other states.
What's unclear is exactly why the violence is occurring. "That's part of the problem," said Andre Rosay, director of the University of Alaska Anchorage Justice Center, and a national expert on this issue. "We can't answer that question. ..."
But there are a number of programs in the state focused on offenders rather than victims. A common refrain from women's rights activists is that "rape won't stop until men stop raping."
Victims aren't to blame; rapists are.
New innovative sex-offender treatment programs are being established based on two concepts dear to local indigenous culture: community and forgiveness. In many states, from California to Alabama, sex offenders essentially are banished from their homes after they're released from prison. Offenders are not allowed to live within a certain distance of schools, parks or child-care facilities – pushing them into places where they fly under the radar, unsupervised.
They often end up in homeless shelters, beneath overpasses and in rural environments where it's difficult to find work, support and counseling.
The goal here is exactly the opposite, said the clinical director of the local sex-offender treatment program, offenders are "right in the center" of a support circle, he said.
"There's no hiding here."
Since it began, the treatment program here has served 90 sex offenders, with only two known cases of sexual re-offense. It's a tiny sample, so it's difficult to draw broad conclusions, but that's a recidivism rate of about 2%, which is "pretty darn good." One study of 9,691 sex offenders nationwide found 5.3% reoffended within three years.
Nationally, about 30% of sex offenders were abused as children, according to a 2001 study that's widely cited by state governments and activists. In Alaska it's closer to 50%. Dozens of villages in Alaska have no law enforcement presence. Troopers must fly in by plane. Some victims of abuse aren't believed or no one takes any action brcause the acts are unspeakable, or worse: They are too common.
Alaska's statistics are mind numbing
-- 37% raped or sexually assaulted
-- 59% victims of intimate partner and/or sexual violence
Abuse becomes normal in such an environment and there are decades of sordid history that need to be unpacked.
The PBS series "Frontline" visited one village where Catholic workers were alleged to have sexually abused nearly an entire generation of Alaska Native children in a rural part of the state.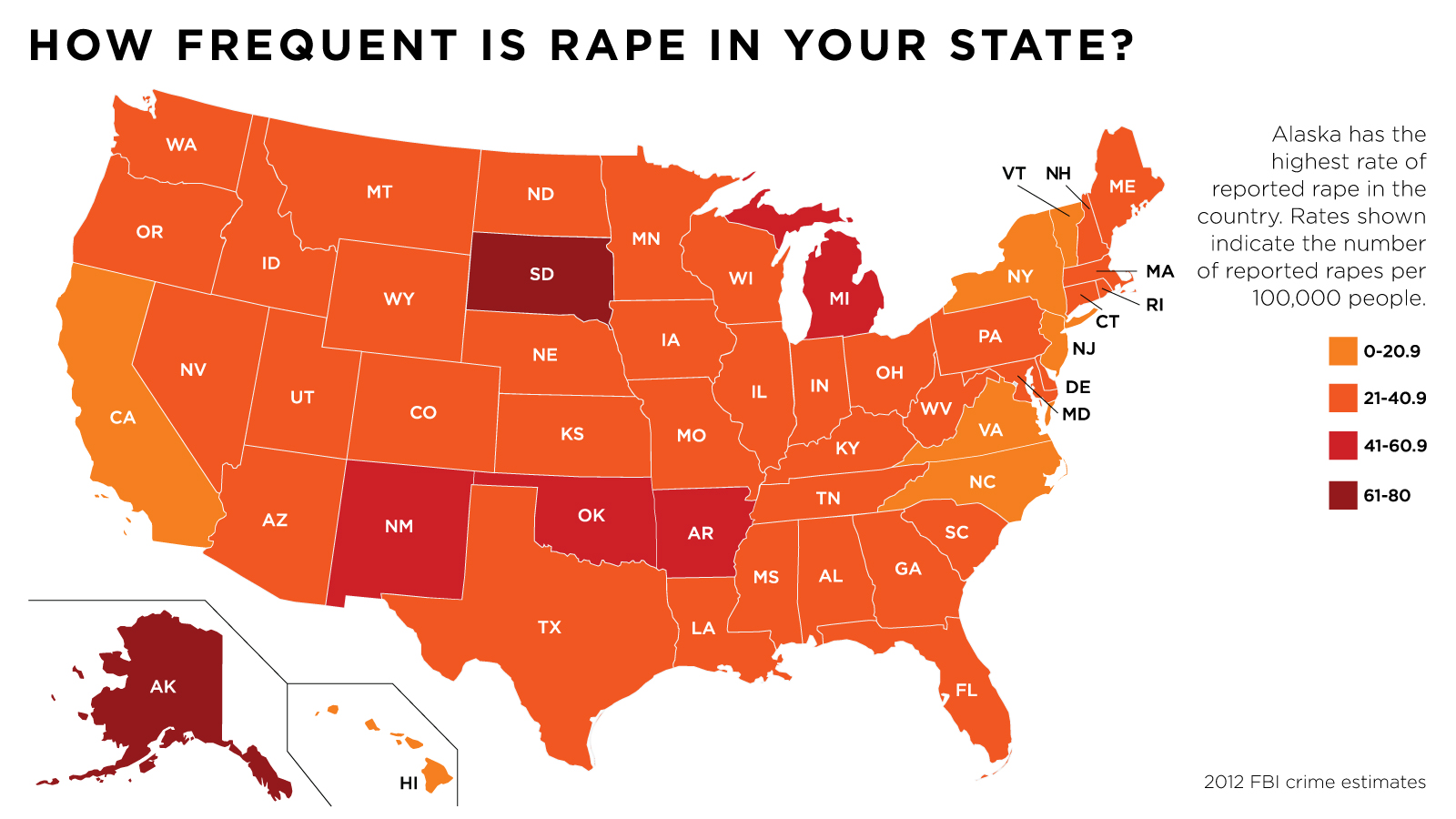 States where rape is most common
Alaska is estimated to have the highest rate of reported rape, according to 2012 FBI data. Find out where your state ranks.
After talking with dozens of people in Alaska, here are the best theories Sutter heard about why the state has the highest rape rate in the country:
The history of cultural trauma, abuse, disease and dislocation imposed on Alaska Native villages has led to a cycle of despair and violent behavior.

Rape is tolerated in some communities; when victims like Claire come forward, they're not believed or told to forget what happened.

Offenders are too rarely punished. Of nearly 1,000 cases of sexual assault studied by the University of Alaska Anchorage Justice Center, 46% were referred for prosecution and 22% resulted in a conviction. It's difficult to compare those rates with other states, said Andre Rosay, from the justice center. What's clear, he said, is that "the biggest hurdle really is in getting the case referred for prosecution, "especially in villages with no local law enforcement presence. Sexual assault cases are 3 ½ times as likely to be prosecuted in communities with a Village Public Safety Officer, he said.

The state is so large – four times the size of California – and so sparsely populated, that it's nearly impossible to police. State troopers must fly to many remote villages, and that can take days, depending on the weather.

Long winters make it easy for offenders to perpetrate the crime.

There's a high rate of alcohol abuse, which doesn't cause rape, but can lower inhibitions for would-be offenders and can be used as a date-rape drug.
Sutter says there is also a seventh reason: the silence.
It permeates every aspect of life in Alaska.
And it changes how the state must deal with rape and sex abuse.
Policy shifts are important, to be sure. The state should broaden the power of tribal courts; expand law-enforcement in rural Alaska; increase the number of women's shelters, so fewer victims will have to hop a plane to find safety; and expand sex-offender treatment programs like the one described.
Read the full story here
The "Change the List" project is an experiment in journalism as democracy where readers vote on which stories to investigate. The top picks were
1. America's widening rich-poor gap (16,789 votes)
2. Illegal animal trade (13,276 votes)
3. Where rape is most common (12,996)
4. The world's poorest children (12,820)
5. America's most endangered river (12,002)
Latest News & Current Events
' section
Comments
Be the first to add your comments
---
Comment on this article
Login
to submit a comment
What we offer
GajGal is an expanding community of mothers helping mothers. Our motto "Get a Job | Get a Life" is based on the belief that for mothers wanting to get back into the workforce, finding a job with "the right level" of flexibility, empowers working mothers to live life on their own terms and better control their own destiny.
GajGal aims to address this "new reality" through four core components:
1. Job Search and Matching tools to streamline finding the perfect fit for flexible work arrangements.
2. Access to Benefits that in the traditional work environment have been provided by full time employers. GajGal helps to provide a critical mass of members to ensure access to a range of benefits options that we are continually working to expand and improve on.
3. Working Mother Community to provide access to news, blogs and articles of interest and importance to working mothers and a social networking community that working mothers can interact with and draw on for support.
4. The Entrepreneur Zone is for mothers aiming to start their own business and expand on the concepts of working mothers helping working mothers succeed.
Success stories
Shayne Duke
"Using your Benefits link made it easy to select from a wide range of health insurance offerings and narrow down the various plans available that best fit my needs. Being able to make a side by side comparison of the details further helped me make an informed decision on a plan with great rates. The application is swift and uncomplicated"
Amy Rogers
" WOW this is a fantastic idea aimed at a true need. I have had a hard time preparing to go back to work after staying home with my two kids for the past 4 years. I am so excited to start adding my requirements and get started on the search. The Latest News and Benefits are an excellent idea. I would come here to read this even if I wasn't looking for a job right now"