Security
Edit Profile
Jobs
Communication
Latest News & Current Events
Knox and Sollecito lose appeal
Amanda Knox and Raffaele Sollecito had their convictions for the murder of the British student Meredith Kercher in 2007, reinstated on Thursday night, a dramatic development in the long-running legal saga which paves the way for a possible extradition tussle between Italy and the United States.
Delivering its ruling at the end of the defendants' four-month-long second appeal, the court of appeal in Florence upheld the guilty verdicts for both the 26-year-old American student and her Italian ex-boyfriend, who have protested their innocence for years.
After nearly 12 hours of deliberations, a packed, silent courtroom heard Judge Alessandro Nencini sentence Knox to 28 years and six months in jail while Sollecito was sentenced to 25 years. Sollecito is free pending a definitive confirmation of the verdict by Italy's highest court but cannot travel out of the country.

Though it is bound to come as a huge psychological blow for Seattle-based Knox, the verdict is not likely to have any immediate logistical impact on her as it will only become definitive if confirmed by Italy's top appeals court, and only then would Rome be in a position to request her extradition.
Standing in court, Lyle and Stephanie Kercher looked confused during the lengthy, dense verdict and were briefed on its contents by an official from the British embassy before responding cautiously. "We are still in shock. There's nothing to celebrate," said the victim's sister Stephanie in the courtroom after the judge had spoken.
The development in the long-running case will be welcomed by the family of Kercher, the 21-year-old Leeds University student from Coulsdon, Surrey, whose lifeless body was found in the bedroom of her shared flat in Perugia on the morning of 2 November 2007.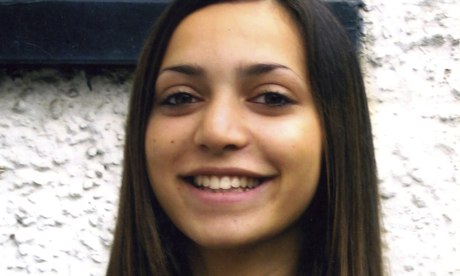 Meredith Kercher was found dead in the bedroom of her shared flat in Perugia. Photograph: Kercher family/PA
The Perugia appeal court that overturned their convictions in 2011 had found that the guilty verdicts had relied on faulty DNA evidence and were "not corroborated by any objective element of evidence".
But it, in turn, was harshly criticised by the top Italian court, the court of cassation, which ordered the second appeal when it quashed the verdict of the Perugia appeals court, picking holes in numerous ways in which the verdict was reached and accusing it of "numerous deficiencies, contradictions and manifest lack of logic".
Despite their protestations of innocence, Knox and Sollecito's case has always been marred by a lack of independent alibi corroboration and by Knox's false statement to police – which she insists was made under intense police pressure – in which she wrongly blamed the bar owner Patrick Lumumba for the crime. The court of cassation verdict last year definitively upheld Knox's conviction for slandering Lumumba, her boss at the time of the murder, for which she had already served enough jail time.
As is standard practice in Italy, the Florence court gave no explanation for its verdict and now has up to 90 days to publish its reasoning.
Latest News & Current Events
' section
Comments
Be the first to add your comments
---
Comment on this article
Login
to submit a comment
What we offer
GajGal is an expanding community of mothers helping mothers. Our motto "Get a Job | Get a Life" is based on the belief that for mothers wanting to get back into the workforce, finding a job with "the right level" of flexibility, empowers working mothers to live life on their own terms and better control their own destiny.
GajGal aims to address this "new reality" through four core components:
1. Job Search and Matching tools to streamline finding the perfect fit for flexible work arrangements.
2. Access to Benefits that in the traditional work environment have been provided by full time employers. GajGal helps to provide a critical mass of members to ensure access to a range of benefits options that we are continually working to expand and improve on.
3. Working Mother Community to provide access to news, blogs and articles of interest and importance to working mothers and a social networking community that working mothers can interact with and draw on for support.
4. The Entrepreneur Zone is for mothers aiming to start their own business and expand on the concepts of working mothers helping working mothers succeed.
Success stories
Shayne Duke
"Using your Benefits link made it easy to select from a wide range of health insurance offerings and narrow down the various plans available that best fit my needs. Being able to make a side by side comparison of the details further helped me make an informed decision on a plan with great rates. The application is swift and uncomplicated"
Amy Rogers
" WOW this is a fantastic idea aimed at a true need. I have had a hard time preparing to go back to work after staying home with my two kids for the past 4 years. I am so excited to start adding my requirements and get started on the search. The Latest News and Benefits are an excellent idea. I would come here to read this even if I wasn't looking for a job right now"